Fallen Soldier: Kyu Hyuk Chay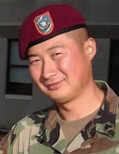 Dates:
Died October 28, 2006
Hometown:
Fayetteville, North Carolina
Branch of Service:
Army
Rank:
Staff Sergeant
Player:
Walker Isley
Army Staff Sgt. Kyu Hyuk Chay, 34, of Fayetteville, North Carolina, was assigned to 1st Battalion, 3rd Special Forces Group (Airborne), Fort Bragg, North Carolina. On October 28th, 2006, he died after sustaining injuries when an improvised explosive device detonated near his combat patrol in Oruzgan province, Afghanistan.

After being born in South Korea, his family moved to New York, where Chay found pride in both his South Korean heritage and becoming an American. He graduated from State University of New York, Albany, and attended the Brooklyn School of Law, but chose to forego his law studies to devote himself to the U.S. Army. He wanted to become an accomplished linguist and saw enlisting as the only way to get guaranteed instruction in that kind of military specialty. He did basic training at Ft. Leonard Wood, Missouri, advanced language studies at Monterey, California and was assigned to the 313rd Military Intelligence Battalion of the 82nd Airborne Division. He became an adept soldier, but also excelled in the world of linguistics and cryptology. His skills proved crucial on several missions. His Battalion, known as the "Desert Eagles," performed exceptionally and was recognized for its aggressiveness on the battlefield and humanitarian efforts.

Chay earned at least 15 awards and decorations, including the Bronze Star and Purple Heart.

In 2012, a new bridge in New York was named in his honor; it overlooks his family's cleaning business. He is survived by his wife, Kathy, son Jason and daughter Kathy- the very foundations for his existence.