Fallen Soldier: Bryan Berky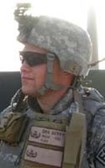 Dates:
Died September 12, 2009
Hometown:
Melrose, FL
Branch of Service:
Air Force
Rank:
Staff Sergeant
Player:
Calynne Rosholt
SSgt Bryan D. Berky, 25, of Melrose, Florida was assigned to the 28th Civil Engineer Squadron of Ellsworth Air Force Base, South Dakota. SSgt Berky was on his second deployment to Afghanistan. He died on September 12, 2009, from wounds sustained when he and other soldiers were ambushed near Bala Baluki, Afghanistan while serving during Operation ENDURING FREEDOM.
SSgt Berky attended Bradford County High School. Within a year following graduation, he joined the Air Force. In 2004, he graduated from Naval School Explosive Ordnance Disposal (EOD). As an EOD operator, he was trained to protect military personnel and property from unexploded bombs. SSgt Berky was considered an elite member of the military's bomb squads because of his ability and experience.
SSgt Berky's awards and decorations include Bronze Star with Valor, Purple Heart, Joint Service Commendation Medal, Air Force Commendation Medal, Army Commendation Medal, Air Force Combat Action Medal, Meritorious Unit Award with one device, Air Force Outstanding Unit Award with one device, Global War on Terrorism Service Medal, the Senior EOD Badge among others.
A former teacher, Christie Torode, recalls Berky as always keeping very busy and focused. "He was good at paying attention to detail, but he didn't like to sit still for too long" she said. His passions included music (he loved playing the guitar), rock climbing, fishing, motorcycling, and grilling with his family.
SSgt. Berky is survived by his wife, Erin and their son, Harrison.