Fallen Soldier: Wayne R. Cornell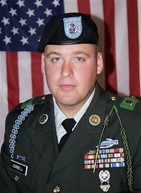 Dates:
Died March 20, 2007
Hometown:
Holstein, Nebraska
Branch of Service:
Army
Rank:
Sergeant
Player:
Harry Crockett
Army Sgt. Wayne Richard Cornell, 26, of Holstein, Nebraska, was assigned to the 1st Battalion, 28th Infantry Regiment, 4th Infantry Brigade Combat Team, 1st Infantry Division, Fort Riley, Kansas. He died on March 20th, 2007, in Baghdad, when an improvised explosive device detonated near his vehicle during combat operations.

Sgt. Cornell was born in Grand Island, Nebraska on August 3rd, 1980. He graduated from Silver Lake High School in nearby Roseland in 1999. Shortly after graduating, he enlisted in the National Guard, where he was a member of Troop A 167th Calvary of the Nebraska National Guard. He was in that role for four years before joining the United States Army in 2005 at Fort Riley, Kansas. There, he was a member of HHC,1-28 IN, 4BCT, 1ID.

In civilian life, Sgt. Cornell participated in Hapkido and was a 3rd Degree Black Belt Tae Kwon Do. He was a volunteer fireman EMT in Holstein and V.F.W. in Grand Island. At one time, he was also a member of the Hastings Police Department Explorers.

Sgt. Cornell was a "good soldier, a good leader, a quiet professional who didn't beat his chest but did his job," said Sgt. 1st Class James Gallegos. "He was a good family man. Most important to him were his wife and kids."

He is survived by his wife, Patricia and 3 children.