Fallen Soldier: Oscar Jimenez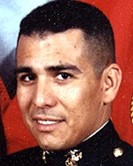 Dates:
Died April 11, 2004
Hometown:
San Diego, CA
Branch of Service:
Marine Corps
Rank:
First Lieutenant
Player:
Jonas Appel
Marine Corps 1st Lt. Oscar Jimenez, 34, of San Diego was assigned to 3rd Battalion, 4th Marine Regiment, 1st Marine Division, I Marine Expeditionary Force, at Twentynine Palms, Calif.

On April 11, 2004, he was seated in a lead patrol vehicle of a convoy, sending directions via radio to move their convoy back to base and away from hostile areas near Fallujah, in the al-Anbar Province of Iraq. A small girl had led her herd of cattle across the road, forcing the convoy to stop and allow her to pass. Their Humvee came under surprise enemy attack by insurgents who had been hiding in the tall grass. Jimenez suffered several gunshot wounds to his leg but continued to stay on the radio and relay instructions. The next wound to the head was a fatal one.
.
1st Lt. Jimenez enlisted in the Marines in 1989, fulfilling is life-long dream of being a member of what he believed to be the world's most elite fighting force. He was serving his third tour of duty, first being deployed to Iraq in 2003 where he was one of the first boots on the ground in the initial invasion of Iraq.

1st Lt. Jimenez was awarded a Purple Heart and thirteen other commendations including a Navy Unit Commendation and a Presidential Unit Citation.

1st Lt. Jimenez is survived by his wife and three children.