Fallen Soldier: Kristopher Greer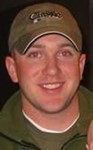 Dates:
Died August 8, 2010
Hometown:
Ashland City, Tennessee
Branch of Service:
Marine Corps Reserves
Rank:
Corporal
Player:
Jared Strathe
Marine Corps Cpl Kristopher Greer, 25, of Ashland City, Tenn. was assigned to 4th Combat Engineering Battalion, 4th Marine Division, Marine Forces Reserve, Knoxville, Tenn. He died August 8, 2010, in Helmand province, Afghanistan, of wounds received two days prior when an improvised explosive device detonated while supporting combat operations.

Cpl. Greer, a 2003 graduate of Harpeth High School, joined the Ashland City fire department as a volunteer in March 2005 and became a full-time firefighter and EMT two years later.

Cpl. Greer joined the Marine Corps in April 2006. Following his first deployment, he was promoted to corporal. He served with an Explosive Ordinance Disposal (EOD) team clearing improvised explosive devices—to make buildings, roads, and paths safe for fellow soldiers and the Afghan people.

Ashland City fire chief Chuck Walker said the death of Greer was the same as losing a family member. "Daniel was a character. He was very outspoken, and he didn't mind letting you know what was on his mind," he said. "We [firefighters] spend a lot of time together. Even on Daniel's days off, he would often go hunting and fishing with the other firefighters," he said.

He is survived by his wife, Stacy Bennett and son, Ethan Douglas.