Fallen Soldier: Arthur S. Mastrapa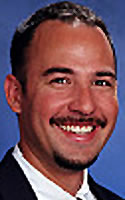 Dates:
Died June 16, 2004
Hometown:
Apopka, Florida
Branch of Service:
Army
Rank:
Staff Sergeant
Player:
Isac Wallin
Staff Sgt. Arthur S. Mastrapa, 35, of Apopka, Fla. was assigned to the 351 Military Police Company, 95th Military Police Battalion, 16th Military Police Brigade, Army Reserve, Ocala, Fla. He was killed June 16, 2004 during a mortar attack when mortar rounds hit his camp in Balad, Iraq.

He joined the Army shortly after graduating from Forest Lake Academy and served as a military policeman in Alabama and Germany. After the service, he worked as a postal carrier in Altamonte Springs and joined the Army Reserves.

SSgt. Mastrapa was chatting with a friend in the PX talking about going home to see his children when a mortar-alarm sounded. As they were leaving, the rocket exploded, sending him to the ground. Another friend was near the PX calling her family. She hung up the phone and ran toward the sound of the blast. Claiming to be a medic, she faked her way through the crowd to SSgt. Mastrapa so he would not be among strangers.

SSgt. Mastrapa was scheduled to return to the U.S. that Friday with his unit. He had kept his return a secret, hoping to surprise his family. "He wanted to surprise me for Father's Day," said his father, Arthur Mastra.

"He liked being in the military," said his brother, Mark Mastrapa. "He really loved serving his country."

SSgt. Mastrapa is survived his wife, Jennifer, daughter and son.