Fallen Soldier: Jeremy A. Katzenberger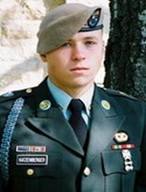 Dates:
Died June 14, 2011
Hometown:
Weatherby Lake, Missouri
Branch of Service:
Army
Rank:
Staff Sergeant
Player:
Piercen Hunt
Army Staff Sergeant Jeremy A. Katzenberger, 26, of Weatherby Lake, Missouri, was assigned to B Company, 1st Battalion, 75th Ranger Regiment at Hunter Army Airfield, Georgia and served during Operation ENDURING FREEDOM. On June 14, 2011, SSG Katzenberger died of wounds sustained during a heavy fire fight with enemy forces while conducting combat operations in the Paktika Province of Afghanistan.

SSG Katzenberger enlisted in the Army in October of 2004. After graduating from the Basic Airborne Course, he was assigned to the Ranger Assessment and Selection Program, which he completed in 2005 and then served as a rifleman, automatic rifleman, team leader and Ranger squad leader. His military education also included the U.S. Army Ranger Course, Warrior Leader Course and Jumpmaster. SSG Katzenberger's decorations include the Ranger Tab, Expert Infantryman Badge, Combat Infantryman Badge and the Parachutist Badge, along with numerous others. He was posthumously awarded the Bronze Star Medal, Meritorious Service Medal and Purple Heart for his service and sacrifice.

"SSG Katzenberger was a phenomenal Ranger who died while leading his men in an assault against our enemies. He died while protecting our Nation and we will not forget his sacrifice," said COL Michael Foster, commander, 1st Bn., 75th Ranger Regt. "He was universally respected by every member of this command and was a devoted, loving husband and proud father."

SSG Katzenberger's wife, Colleen, is a Folds of Honor Scholarship recipient and a current speaker.