Fallen Soldier: Roland E. Calderon-Ascencio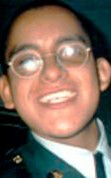 Dates:
Died April 12, 2006
Hometown:
Miami, Florida
Branch of Service:
Army
Rank:
Specialist
Player:
Davis Bryant
Army Spc. Roland E. Calderon-Ascencio, 21, of Miami, Florida, was assigned to the 1st Battalion, 67th Armored Regiment, 2nd Brigade Combat Team, 4th Infantry Division, Fort Hood, Texas. On April 12th, 2006 while serving during Operation Iraqi Freedom, he died of injuries sustained when an improvised explosive device detonated near his Humvee during combat operations in Misiab, Iraq.

Born in California, Calderon and his family moved to El Salvador when he was 2 before settling in South Florida when he was 5. After he severely injured his ankle in a childhood biking accident, Spc. Calderon focused on academics instead of sports, eventually making the honor roll at Southridge High School. It came as a surprise to his family when he wanted to join the military. His family tried to talk him out of it, but he felt that it was his duty. He joined the U.S. Army in September 2003 and, after weeks of jogging to shed extra pounds, was assigned to Fort Hood in January 2004. At the time of his death, he was working as an armor crewman for the M1 tank.

Spc. Calderon-Ascencio's medals include the National Defense Service Medal, Global War on Terrorism Service Medal and the Army Service Ribbon.

He is survived by his wife, Mirta- who he met while they were both Army recruits- and twin boys, Rolandito and A.J.