Fallen Soldier: Gabriel G DeRoo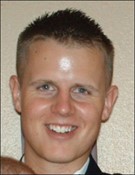 Dates:
Died August 20, 2006
Hometown:
Paw Paw, Michigan
Branch of Service:
Army
Rank:
Sergeant
Player:
Troy Taylor II
Army Sgt. Gabriel Glenn DeRoo, 25, of Paw Paw, Michigan, was assigned to 2nd Battalion, 3rd Infantry Regiment, 3rd Brigade, 2nd Infantry Division, Fort Lewis, Washington. While assisting in the arrest of three dangerous insurgents, he encountered enemy forces using small-arms fire during combat operations in Mosul, Iraq. He died of his injuries on August 20th, 2006.

De Roo was pursuing a career in law enforcement at Kalamazoo Valley Community College. Moved by the events of 9/11, he enlisted in the Army in January 2003. The first of his two tours in Iraq included dangerous missions in excessive heat as a machine gunner patrolling and searching for insurgents. Despite the trials, he was happy to serve and re-enlisted in the Army for five more years during this time.

In his memorial, it was noted that two words that described the character of Sgt. Gabriel Glenn De Roo would be "humble strength." He had a smile that could light up an entire room and a compassionate heart that touched the lives of those around him. He liked to have a good time, joking around and acting silly at times; yet, he was a brave soldier that courageously and willingly offered his life, giving his own freedom for that of his country and others around the world.

While stationed at Fort Lewis, he met his wife, Hannah, while attending Bible study off base. They had one son, Gabriel II.