Fallen Soldier: Eric B. Das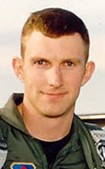 Dates:
Died April 7, 2003
Hometown:
Amarillo, Texas
Branch of Service:
Air Force
Rank:
Captain
Player:
Francois Jacobs
Air Force Capt. Eric Das, 30, of Amarillo, Texas was assigned to the 333rd Fighter Squadron based at Seymour Johnson Air Force Base, N.C. Capt. Das died April 7, 2003 piloting an Air Force F-15E that went down during a combat mission over Iraq. He was listed as missing until April 18, when the Air Force announced that his remains had been identified.

Those who knew Das note two things that stand out about him: he wanted to be a pilot and his Christian faith. The son of missionaries, Das was born in the Netherlands, while his parents worked there but eventually made his way to Colorado. While briefly living at the nearby Air Force Academy in Colorado Springs, Das watched planes fly overhead and people parachuting from the sky. He went on to graduate from there (Raging Bull 6 Cadet Squadron) with a degree in Civil Engineering. While stationed in Alaska, he met his wife, Nikki, an Air Force first lieutenant. They married 18 months before his passing and were stationed in side-by-side tents in Kuwait.

As a final testament to Captain Das' character, he was posthumously awarded the name "Chief Faithful Servant" by the operational unit with which he flew in Iraq (335FS). Nikki Das noted that Eric prioritized "God, family and country – in that order" and lived a fulfilled life doing what he loved.