Fallen Soldier: Ronald A. Grider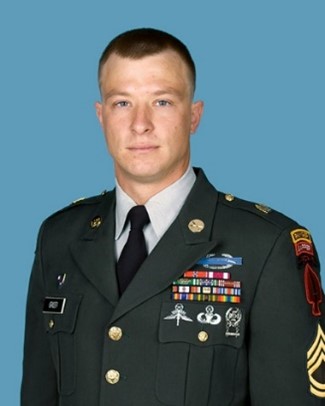 Dates:
Died September 18, 2010
Hometown:
Brighton, Illinois
Branch of Service:
Army
Rank:
Sergeant First Class
Player:
Sean Markham
Army Sgt. 1st Class Ronald A. Grider, 30, of Brighton, Illinois was assigned to U.S. Army Special Operations Command, Fort Bragg, North Carolina. He died Sept. 18, 2010 at Kunduz province, Afghanistan, of wounds suffered when he was struck by machine gun fire.

Born in Alton, Illinois, Sgt. 1st Class Grider enlisted in the U.S. Army as an Infantryman in 1998. In 2000, he attended the 82nd Airborne Division Pre-Ranger Course and graduated from Ranger School in May. After that, he was assigned as a scout team leader to Headquarters and Headquarters Company, 2nd Bn., 504th Parachute Infantry Regiment, and served there in that role for seven months. In November 2005, he was assigned as a special operations team member, United States Army Special Operations Command (Airborne), SFOD-D. Over the next five years, he deployed four times to Operation Iraqi Freedom and once more to Afghanistan for Operation Enduring Freedom.

Sgt. 1st Class Grider received over 40 awards, including three Bronze Stars- one of which was awarded posthumously alongside the Purple Heart.

As a Ranger, Sergeant 1st Class Grider selflessly lived his life for others while he distinguished himself as a member of the Army's premier light-infantry unit, and the nation's top tier SO unit. In every instance he fought valiantly as he served his fellow Rangers and team members.