Fallen Soldier: David Perry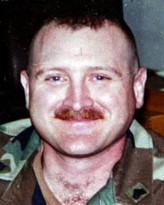 Dates:
Died August 10, 2003
Hometown:
Bakersfield, CA
Branch of Service:
Army
Rank:
Staff Sergeant
Player:
Ashleigh Park
Army Staff Sgt. David S. Perry, 36, of Bakersfield, California, was assigned to the 649th Military Police Company, Army National Guard, Camp San Luis Obispo, California. He was killed on August 10th, 2003, when a suspicious package he was inspecting exploded in Baquabah, Iraq. By clearing the perimeter around the package before inspecting it, he is credited with saving about 30 other soldiers.

After graduating from Sonora High School in 1984 and suffering a leg injury that ended his football career, Staff Sgt. Perry chose to enter the U.S. Army as an aircraft electrician stationed in Germany. In the early 1990s, he served in Operation Desert Storm as part of a military police battalion charged with prisoner care. After returning home from the Persian Gulf, he joined the California National Guard and graduated from the College of the Redwoods Police Academy. In civilian life, he was a prison guard who was well-respected by colleagues and inmates at Wasco State Prison, north of Bakersfield.

Staff Sgt. Perry is listed as the first national guardsmen to lose his life in the post-9/11 conflict. All flags at California state prisons, parole offices and conservation camps were ordered to fly half-staff until his funeral and memorial services. In 2022, he was honored in Bakersfield with a portrait at Portrait of a Warrior Gallery. He is survived by his wife, Denae, and three children- Alyssa, Brandon and Shawn.