Fallen Soldier: James Weis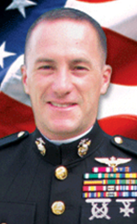 Dates:
Died July 22, 2010
Hometown:
Toms River, NJ
Branch of Service:
Marine Corps
Rank:
Major
Player:
Ashley Menne
Marine Corps Maj. James M. Weis, 37, of Toms River, NJ was assigned to Marine Aircraft Group 39, 3rd Marine Aircraft Wing, I Marine Expeditionary Force, Cobra squadron headquartered at Marine Corps Air Station Miramar in San Diego and based out of at Camp Pendleton. He was killed July 22, 2010 when his Cobra attack helicopter crashed near Lashkar Gah, Helmand's provincial capital. He was responding to a call for air support by Marines who had been pinned down by Taliban fighters. On arriving at the scene, his Cobra helicopter was hit by four surface-to-air-missiles fired simultaneously
Maj. Weis grew up in New Jersey and graduated from Toms River North High School. He then earned a degree from Rutgers University. He joined the Marine Corps in 1994 and became a qualified helicopter pilot. Maj Weis was commissioned as an officer in 1996. He was hoping to be promoted to lieutenant colonel and become a commanding officer after returning from his most recent deployment, according to a Marine who served with him.
The death of the High School North graduate greatly impacted Toms River, and the school and community honored his heroic legacy by recognizing a stretch of Old Freehold Road as the Maj. James M. Weis Memorial Highway.
He is survived by his wife, Mae, and two sons.