Fallen Soldier: Chad D. Frokjer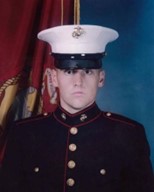 Dates:
Died June 30, 2011
Hometown:
Maplewood, Minnesota
Branch of Service:
Marine Corps
Rank:
Sergeant
Player:
Cecil Belisle
USMC Chad D. Frokjer, 27, of Maplewood, Minnesota, was assigned to 1st Battalion, 5th Marines, 1st Marine Division, I Marine Expeditionary Force based out of Camp Pendleton, California and served during Operation ENDURING FREEDOM. On June 30, 2011, Sgt Frokjer died while conducting combat operations in the Helmand province of Afghanistan.

Sgt. Frokjer graduated from North High School in North St. Paul, Minnesota in 2002. Chad was a natural born leader with a gift to motivate. As a Marine, he proved his intelligence by passing the Squad Leader's course with a 99.3%, the highest score the Marines had ever seen. He served two tours of duty in Iraq and was deployed on his final tour to Afghanistan.

"As a child Chad loved to play with his Tonka trucks; he would dig for hours. One time during his youth, his parents thought he had gone missing, only to find him in a five-foot hole that he and his Tonka truck had dug. At the young age of three Chad instructed his family to stop singing him Happy Birthday but to sing him Born in the USA instead." Chad's sister, Nikki, said. Chad enlisted in the Marines after the tragedy of September 11, 2001. He loved music, running, and 'jazzercise"—Chad's name for the elliptical machine—and he was also a sports guru with a wealth of knowledge about any sport or sports trivia.

Sgt Frokjer's son is a Folds of Honor Scholarship recipient.