Player: John Driscoll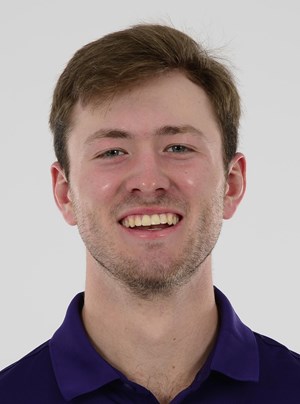 Hometown:
Lake Mary, FL
University:
Northwestern University
Graduation Year:
2023
Area of Study:
Economics
Soldier Honored:
Chris J. Scherkenbach
2021: Came away undefeated in Big Ten Mach Play (Feb. 5-6) ... Ended round three of the Spartan Collegiate even with par (Mar. 9) ... Turned in three par or better rounds at the Boilermaker Invitational to finish tied for fourth (April 10-11) ... Tied for silver at the Kepler Intercollegiate (April 24-25) ... Took sixth at the Big Ten Championships (April 30 - May 2) ... Hit par in the opening round of the NCAA Stillwater Regional (May 17-19) ...

2021 Results:
Spartan Collegiate: 76-73-72= 221 (+5) (T49)
Boilermaker Invitational: 70-71-72= 213 (-3) (T4)
Robert Kepler Intercollegiate: 71-71-70= 212 (-1) (T2)
Big Ten Championships: 71-75-75= 217 (+5) (T6)
NCAA Regional: 72-77-87= 236 (+15) (T69)

2019-20: Shot an even par in the final round of the Windon Memorial accelerating towards a top-40 finish (Sept. 17) ... Carded a 66, the second-best round in tournament history, on his way to his first career top-20 finish at the Marquette Invitational (Oct. 8) ... Recorded a team low 6-under 66 at the Marquette Intercollegiate, good to tie a tournament record for second lowest 18-hole round ... Posted a career best 65 score in the final round of The Prestige. Defeated T. Westernberger from Nebraska, 5&4 to help Northwestern advance to the championship round in Big Ten Match Play

2019-20 Results:
Windon Memorial 73-75-71=219 9 (+6) (T35)
OFCC/Fighting Illini Invitational 72-78-77=227 (+17) (T72)
Marquette Intercollegiate 77-74-66=217 (+1) (T17)
Crooked Stick Invitational 75-72-73=220 (+4) (T13)
Big Ten Match Play half A. Farraye (PUR)
lost to B. Weinberg (IOWA) 1UP
def. T. Westenberger (NEB) 5&4
lost to L. Clark (PSU) 3&2
The Prestige 73-72-65=210 (-3) (T14)
Desert Mountain 80-80-81=241 (+25) (65)

High School: No. 4 ranked 2019 junior in Florida by Junior Golf Scoreboard… Seven Top 10 AJGA finishes 2017…3rd place at the Florida Azalea Amateur…2018 Qualifying medalist (67) for the 2018 Florida Open…2018 Qualifying medalist (66) for the USGA Junior Amateur… …2017 Seminole County Florida Golfer of the Year…2018-AJGA Transamerica Scholastic Honor Roll All-America Team…2X FHSAA High School District Champion (2017, 2018)… 2018 FHSAA High School Regional Champion… 2016 New Jersey State Junior Championship…PGA Boys Player of the Year 8th grade-2014 New Jersey 44th State Boys Champion (youngest in state history).

Personal: Fluent in Spanish… Raised over $6,000 for New Jersey Special Olympics, The Morgan Hoffmann Foundation, The Mason Goodnight Foundation and Folds of Honor…. Enjoys fishing and basketball…Anticipated major at Northwestern, Economics.