Fallen Soldier: David A. Gibbs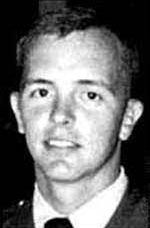 Dates:
Died May 5, 1999
Hometown:
Massillon, Ohio
Branch of Service:
Army
Rank:
Chief Warrant Officer 3
Player:
Mats Ege
Army Chief Warrant Officer 3 David A. Gibbs, of Massillon, Ohio, was an AH-64A Apache helicopter pilot with the "Six Shooters" of Company C, 6th Battalion, 6th Squadron, 6th Cavalry Regiment stationed in Illiesheim, Germany.

On May 5, 1999, CW3 Gibbs and another Army pilot were leading a formation of five helicopters over mountainous terrain in a nighttime training mission near Tirana, Albania. Suddenly, their aircraft experienced some type of mechanical failure, causing the helicopter to plummet to the ground and burst into flames. The Army aviators were the first casualties of the 1999 NATO operations in Yugoslavia, called Operation Allied Force. After a months-long investigation, the Army was unable to determine exactly what caused the fatal crash. CW3 Gibbs was 38 at the time of his death. He left behind a wife and infant son.

While there is very limited information regarding CW3 Gibbs, there is no doubt he served his country with bravery and valor and his family is incredibly proud of the man he was. His son is a former Folds of Honor scholarship recipient.

In May 2014, in order to recognize these first military casualties of Operation Allied Force, the Kosovo government unveiled a new monument to honor the sacrifice of CWO3 Gibbs and Chief Warrant Officer 2 Kevin L. Reichert.