Fallen Soldier: Robert L. Hollar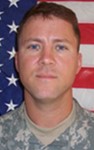 Dates:
Died September 1, 2005
Hometown:
Griffin, GA
Branch of Service:
Army National Guard
Rank:
Sergeant First Class
Player:
Brantley Baker
SFC Robert L. Holler, 35, of Griffin, Ga. Was assigned to the 108th Cavalry Regiment, 48th Infantry Brigade, Georgia National Guard, Griffin, Ga. He died September 1, 2005 when an improvised explosive device detonated near his Humvee during patrol operations in Baghdad.

As part of the Spalding County National Guard unit in Georgia, SFC Hollar and his unit were deployed in March 2005. He served in the National Guard as a tank commander and was also a military scout. Following his death, He was awarded both the Purple Heart and the Bronze Star for his heroism and bravery in combat.

SFC Holler worked with the Postal Service for several years before being deployed to Iraq. The Senate subsequently passed a bill to name the Post Office in Thomaston, Georgia, the "Sergeant First Class Robert Lee "Bobby" Hollar Jr. Post Office Building" in honor of the Hometown Hero.

Spc. Charles Flowers recalled a happy day in May when he and his buddy had taken their kids to see an Atlanta Braves game during their 10 days of leave. "He loved his kids. He loved his wife," Flowers said of SFC Hollar. "He was always making plans for what he would do on leave." While he was in Baghdad, SFC Hollar became pen pals with students at Crescent Elementary School in Griffin.

He is survived by his wife, Amanda, and two sons, Brody and Wesley.