Player: Mackenzie Lee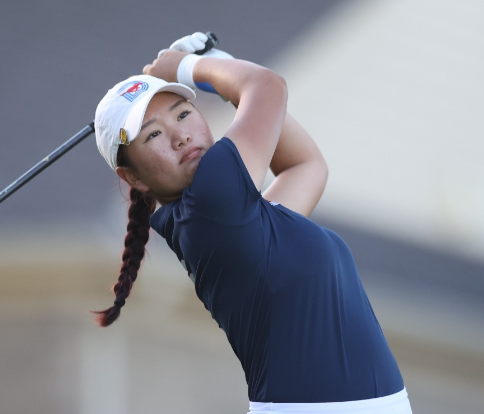 Hometown:
Little Rock, Arkansas
University:
Southern Methodist University
Graduation Year:
2026
Area of Study:
Sport management
Soldier Honored:
Kevin H. (Sonny) Sonnenberg
2022-23 (Fr.) - Lee was the Mustang leader in the six of 12 formal tournaments on the season. Lee was second on the team with a 71.78 scoring average, good for 0.15 below par on average. She placed in the top 10 in eight competitions during the season. She finished with the second lowest scoring round in program history trailing only Yunxuan (Michelle) Zhang's 2022-23 season (71.38) and topping the previous best 72.18 by Lindsey McCurdy in 2016-17.

Lee was one of three Mustangs to break the single-season record of par or better rounds which stood at 19. She recorded 23 in 2022-23. She started her career with a T13 performance at the Dick McGuire Invite, shooting a 68 (-4) in the final round of competition. She followed that up with a T7 showing at The "Mo"Morial, finishing the tournament four under par. She shot below par in the first two rounds at The Ally and finished the event in eighth place.

Most recently, Lee finished in fourth at the Jim West Challenge. She posted a middle round 67 to highlight another impressive showing for the freshman. At the Hurricane Invitational, Lee posted her best performance of the season, finishing in second place. Lee broke the program record for single round scoring with a round of nine-under par at the Icon Invitational. She went on to finish the tournament in fourth place.

Lee recorded her sixth top-10 finish on the season with a fifth-place showing at the Trinity Forest Invitational. At the Briar's Creek, Lee recorded her fifth top five finish of the season with a third place showing.

Lee earned All-conference honors for her 2022-23 season. She finished in a tie for third at the NCAA San Antonio Regional leading the Mustangs to a regional title. At the NCAA Championship, Lee finished 65th in the nation. Her performances during the 2022-23 season earned her a 51st place ranking in the year-end edition of the GolfStat Rankings.