Soldier Honored: Warren A. Frank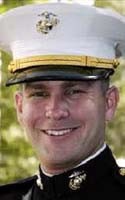 Dates:
Hometown:
Branch of Service:
Marine Corps
Rank:
Sgt.
U.S. Marine Corps Captain Warren A. Frank, 26, of Cincinnati, Ohio, was assigned to the 5th Air Naval Gunfire Liaison Company, III Marine Expeditionary Force, Okinawa, Japan. He was serving as an Infantry Officer in Baghdad and was working on a humanitarian food distribution mission. On November 25, 2008, Captain Frank and his team came under small arms fire by an attacker in an Iraqi soldier's uniform.  He and another U.S. soldier lost their lives in the attack. It was not known if the uniform was a disguise or if the attacker was really an Iraqi soldier. Several other service members were injured, as well.

A 2000 graduate of Turpin High School, Warren Frank studied Political Science and became a 2004 graduate of The Citadel. He was a Battalion Supply Sergeant as a Junior, and a Charlie Company Commander as a Senior. Captain Frank enlisted in the Marine Corps in February 2004 and received his commission as a Second Lieutenant in Quantico, Virginia.  He was subsequently assigned to the 3rd Battalion, Camp Pendleton, California. While there, he spent two tours of duty as a rifle platoon leader.   "Our son wanted nothing more than to make a difference in our world," said Frank's father in a statement sent to the media. "He was not a movie version soldier, but a man who looked forward to loving his children."  He was married and had two daughters at the time of his death.

Both of Captain Frank's daughters are Folds of Honor Children's Fund scholarship recipients.