Soldier Honored: Jared N. Van Aalst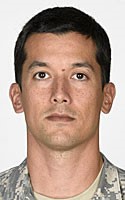 Dates:
Hometown:
Branch of Service:
Army
Rank:
Master Sgt.
Army Master Sergeant Jared Van Aalst of Laconia, New Hampshire was assigned to the U.S. Army Special Operations Command, Fort Bragg, North Carolina. He was killed on August 4th, 2010 due to gunshot wounds sustained while conducting combat operations during his service in Operation Enduring Freedom. He was 34 years old.

Jared Van Aalst enlisted in the U.S. Army as a signal support systems specialist in August of 1995, just two years after graduating from Plymouth Regional High School in Plymouth, New Hampshire. During his service, he became a Ranger, team leader, squad leader, sniper platoon sergeant and was chosen to be an instructor in the Army Marksmanship Unit; all before his first deployment in 2003. MSG Van Aalst received many awards and medals such as a two Bronze Stars, three Purple Hearts, and the Defense Meritorious Medal.

In April of 2015, MSG Van Aalst was honored with a road sign at the entrance of the Martin Army Community Hospital in Fort Benning, Georgia. During the unveiling, Sgt. 1st Class Emil Praslick, said of MSG Van Aalst, "Those of you that had the privilege of knowing and working with Jared know that his desire for constant self-improvement was a defining character trait throughout his life."

MSG Van Aalst is survived by his wife two daughters, and a son. His youngest two children are Folds of Honor Children's Fund Scholarship recipients.