Soldier Honored: Corry A. Edwards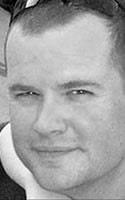 Dates:
Hometown:
Branch of Service:
Army
Rank:
Chief Warrant Officer 2
Army Chief Warrant Officer 2 Corry A. Edwards, 38, of Kennedale, Texas, was assigned to the 2nd Battalion, 149th Aviation Regiment, Task Force 34, Texas Army National Guard, in Grand Prairie, Texas.  He was serving as an Aviation Maintenance Technician under Operation Iraqi Freedom.  On September 18, 2008, he and seven other U.S. National Guardsmen were killed when their CH-47 Chinook helicopter went down near Tallil, Iraq.

Edwards graduated from Sam Houston High School in Arlington, Texas and joined the Texas Army National Guard in 1988. He served in Bosnia in 2003-04 during Task Force Renegade.  To those who knew and loved him, he was a man who affected the lives of many and was a friend to all.  He had a helpful nature that reached out to those most in need and lifted the spirits of all he touched.  He had a gentle way of providing strength when situations called for it, and a genuine nature that granted comfort.  "Corry valued integrity and lead his life in such a way as to impress on his sons to be honorable men.  His loving charm captured the hearts of everyone," his family wrote in tribute.

Edwards' son is a Folds of Honor Scholarship recipient.