Soldier Honored: Christopher J. Schornak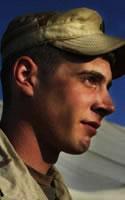 Dates:
Died 2005
Hometown:
Marietta, Georgia
Branch of Service:
Army
Rank:
Staff Sergeant
Staff Sergeant (SSG) Christopher Schornak's final assignment was to the 1st Battalion, 12th Infantry Regiment, 4th Brigade Combat Team, 4th Infantry Division, Fort Hood, Texas. SSG Schornak entered the Army just after graduating in 1996 and attended boot camp in Ft. Benning, Georgia. His first duty station was an overseas assignment in Germany. About 18 months after returning from his first tour in Iraq in 2003, SSG Schornak decided to leave active duty and switch to the reserves. The former sergeant tried working for a heavy equipment firm in Birmingham, Alabama so he could be home with his wife and newborn son, but was miserable. He missed his job and his soldiers, he missed getting up for PT in the mornings and putting on his uniform every day, but mostly he missed living with a sense of purpose and pride, knowing that he was changing the world. The next week, he reenlisted in the U.S. Army. In April 2005, his family moved to Ft. Hood, Texas. Shortly after being deployed, and only three weeks before SSG Schornak was scheduled to come home for two weeks of "R&R" to celebrate his son's third birthday, he was killed when his dismounted patrol was engaged by enemy forces using small-arms fire in Baghdad.

Even as a child, he was funny and charming, the life of the party. SSG Schornak knew at a young age that he wanted to serve in the Army and lived his life preparing for the day he could join. He participated in Boy Scouts and earned the status of Eagle Scout at the age of 18. He also participated in ROTC during his high school career at Pope High School in Marietta, Georgia.

SSG Schornak is survived by his wife and son, who is a Folds of Honor Children's Fund scholarship recipient.